The Yost House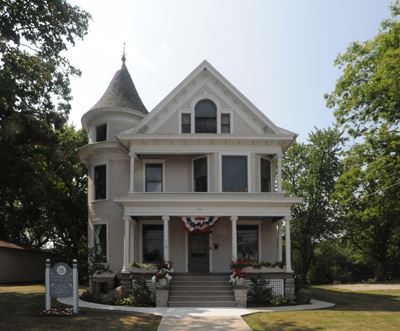 The History of The Yost House
The Catharine V. Yost Museum is an extraordinary site. Constructed before the turn of the 20th century, the house was owned and occupied by a single family for nearly 100 years. When the last member of the Yost family passed away, the house and everything in it was deeded to the City of Pontiac.
The Yost House is a 3-story, wood-framed structure built for Z.F. Yost, a Pontiac attorney. Built in 1898, this 5-bedroom, Queen Anne-style house rests on the north bank of the Vermilion River, providing a clear view of the river below.
Visitors enjoy that same scenery today, filtered through the many trees and shrubs that offer a haven for visiting songbirds and waterfowl. The interior of the home remains today much as it was at the turn of the 20th century. Most of the furnishings are original to the home and many date back to the 1850s. Docents at the Yost Museum provide the historical and cultural background to help the visitor appreciate life in that earlier, more quaint era.
New Book About the Yost Family and Their Yost House
In 2023, a new book was researched and written about the Yost family and the Yost House. Copies of the book are sold at the Yost House when it is open for public tours. Copies of the book can be purchased from Amazon.com using this link.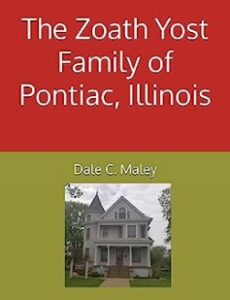 Open House Days
All three Pontiac historic homes are generally open on the 3rd Saturday of each month from 1 to 3 pm. The houses are open for tours by the public and there is no admission charge. Volunteer docents are on-hand and give an overview of the house history, plus answer any questions.
The Historical Society does try to accommodate special tours schedule by appointment. To arrange a private tour, please contact the Tourism office at 815-844-5847.
Also check the Facebook page for the Historical Society. Upcoming events and tours are usually noted on the Facebook page each month.
Please note: Taking photographs inside the home is prohibited.